Facilities at the Mosque:
Wudu Areas (Washrooms)
There a main area for worshippers to perform wudu, this is the process of purification before performing prayer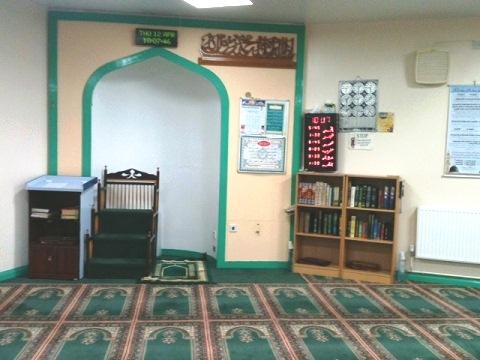 Inside the First Floor Prayer Hall
The main prayer hall, which is a situated on the first floor where the five daily prayers are performed.
For Friday (Jummah) prayers, the lower ground prayer hall and an extension building are also utilised, bringing the total capacity to approx. 400 worshippers. The Mosque holds two separate Jammats for Friday prayer

Ladies
There a separate facilities for sisters, these include
-Wudu area
- Arabic Classes - Quranic Arabic
-Tajweed - rules for recitation of the Quran
-Quran Tafseer - interpretation of the meaning of the Quran
Timings - More information is in the 'News and Events' section .

There are social events and other functions held throughout the year. Please check the 'News and Events' section and Contact Us for more details
Madrasah (Evening school)
The mosque provides evening classes for both boys and girls with separate facilities. This is a highly popular service, and has been a source of Islamic education for youngsters for many years.
It is staffed with teachers experienced suitably for working with younger children.
Age Group of Students : 6 - 16 years
Timings ; 5pm - 7pm (Mon-Fri)
Subjects Taught : Quran, Islamic Study and Urdu Language.
* Please note - The is another session held at 7pm-8pm (Mon-Fri) for those who cannot attend the earlier classes.
For further details and admissions - contact Imam Sajjad on 0798 35 133 84 or email sajjadmuhammad39@yahoo.com