Welcome to
PAIGHAM-E-ISLAM TRUST MOSQUE

About Us
Paigham-E-Islam Trust Britain a.k.a Fulham Road Mosque (Jamiat Al-Dawah Al-lslamiah Britania) is a registered organisation (Charity No.508711) and has been serving the community since 1979.
Our website aims to provide up-to-date information about our centre's current events, activities and services.
Thank you for visiting.

Salat-ul-Jumu'ah
1st: Jamat 1:30pm
2nd Jamat 2:00pm
3rd Jamat 2:30pm
Although Restrictions in accordance with COVID-19 social distancing guidelines have been lifted since July 19 , we advise for congregation prayers the continued use of a face mask and bringing a prayer mat.
Mosque Donations
Support the mosque's financial commitments.
Your
weekly Friday Prayer collections and General donations can
be made on our website.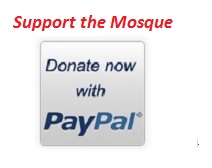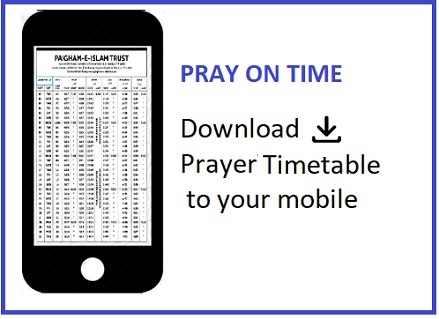 HADITH
Lying to Find Fault Takes to Hell
Allah's Messenger (sal Allahu alaihi wa sallam) said:
"He who, in order to find fault, says something about a person which was not there, will be thrown by Allah in Hell, till he tastes fully what he had fabricated." [Tibrani]
It is very important not to go overboard in disliking someone. Going overboard would be to leave the truth, to say whatever you feel like in order to vent your feelings or justify your behaviour.
Stick to saying what you have observed, rather than what is in the other's thoughts, feelings, or intentions. A person who lies about someone else should be prepared to go to Jahannum for it.

Is your anger worth going to Jahannum for?

Is the other person worth going to Jahannum for? They will surely get what they deserve. Worry about yourself.
COVID - 19 Food Hub Update
Paigham-E-Islam, Foodhub, Stratford Rd, Sparkhill -
CLOSED
Please contact any of the following fellow local Islamic organisations who are still able to operate during this difficult period and MAY be able to help:
Ummah Welfare Trust

0800 4 0800 11

01204 661030

Females only line 07933 001283

Sultan Bahu Trust

0121 440 4096

As Suffa Outreach Foodbank

07835 487124

0121 285 2777

Got a question or require advice on a matter? Contact Imaam Sajjad. Click here for contact details.