Welcome to
PAIGHAM-E-ISLAM TRUST MASJID
RAMADAN ANNOUNCEMENT

Thursday 18th June will be the 1st of Ramadan 1436 Hijri.

The First Taraweeh Prayer will be on Wednesday 17th June after Isha Prayer
About Us
The Masjid, known as Fulham Road Masjid, is owned by Paigham-E-Islam Trust (Jamiat Al-Dawah Al-Islamiah). This is a registered organisation and has been serving the community since 1979.
Our website aims to provide up-to-date information about our centre's current events, activities and services.
Thank you for visiting.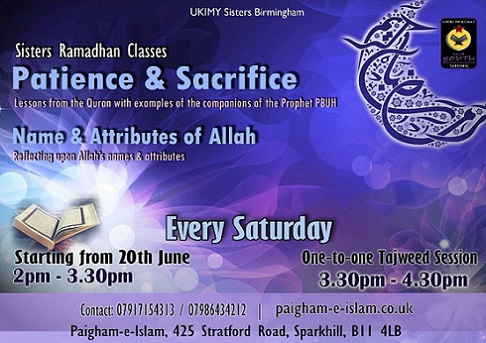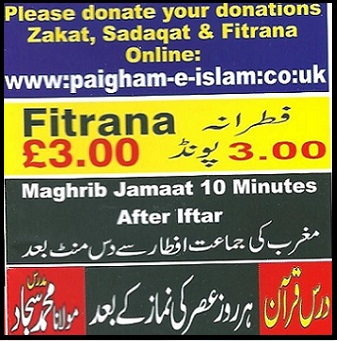 HADITH
Best Wedding
Prophet Muhammad (sal Allahu alaihi wa sallam) said: "The most blessed nikah is the one with the least expenses." [Bayhaqi]

Today, the youth of many men and women is destroyed because they cannot afford the lavish weddings that have become the standard. They do not possess, in terms of dowry or mahr, what society says they must give in order to get married. Others get into debt for extravagant wedding functions. Even those who can afford lavish weddings are responsible for the wastage involved, while the money could have been put to so much better use. To make matters worse, the resulting marriage is often not even a successful one. In order to make our weddings more blessed we need to abandon these customs, and on such occasions take a lesson from the simple nikah of Fatima (radi allahu anha) whose dowry was one water-bag and one bed.
Got a question or require advice on a matter? Contact Imaam Sajjad. Click here for contact details.