Welcome to
PAIGHAM-E-ISLAM TRUST MASJID
About Us
The Masjid, known as Fulham Road Masjid, is owned by Paigham-E-Islam Trust (Jamiat Al-Dawah Al-Islamiah). This is a registered organisation and has been serving the community since 1979.
Our website aims to provide up-to-date information about our centre's current events, activities and services.
Thank you for visiting.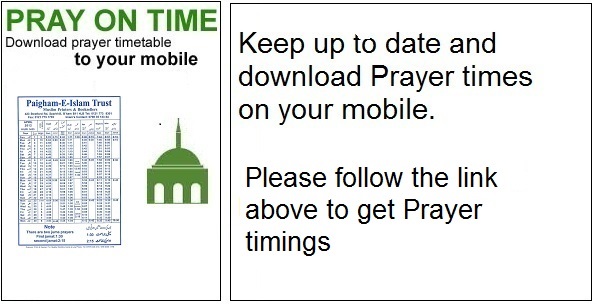 HADITH

Are You A Momin?
The Messenger of Allah (sal Allahu alaihi wa sallam) said: "A momin does not taunt, does not curse and reproach, does not indulge in obscene talking and obscene acts." [Tirmidhi]

Did you make any sarcastic comments to anybody today?
Did you by word or gesture make fun of anybody today?
Did you insult anyone today?
Did you demoralize anybody today?
Did you put someone down for a mistake that they made?
Did you curse anybody today?
Did you say anything vulgar today?
Did you do anything obscene today?

We need to check 'No' next to each of these questions everyday to qualify as Momineen.

It is one thing to be a Muslim and another to be a Momin. To be a Muslim is a basic qualification, in other words, you pass. To be a Momin is a distinction. A Muslim has entered Islam but does not have the Eeman that a Momin possesses.

Got a question or require advice on a matter? Contact Imaam Sajjad. Click here for contact details.