Welcome to
PAIGHAM-E-ISLAM TRUST MOSQUE

NOTE : ASR JAMAT TIMING CHANGE TO : 2:30PM . Download updated time-table.

About Us
Paigham-E-Islam Trust Britain (Jamiat Al-Dawah Al-lslamiah Britania) is a registered organisation (Charity No.508711) and has been serving the community since 1979.
Our website aims to provide up-to-date information about our centre's current events, activities and services.
Thank you for visiting.

Mosque Central heating Appeal - 15th Dec

Next Jumah (Friday Prayer :
15th Dec ) the mosque will make a special One-off collection for the upgrade to the central heating system which has now been completed and cost £2,500 .

Please donate generously and for those who cannot attend, use the online Paypal donation facility.

Thankyou.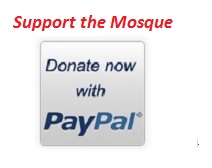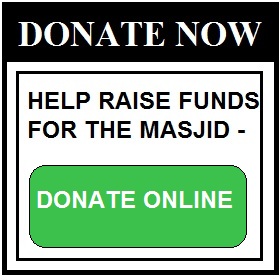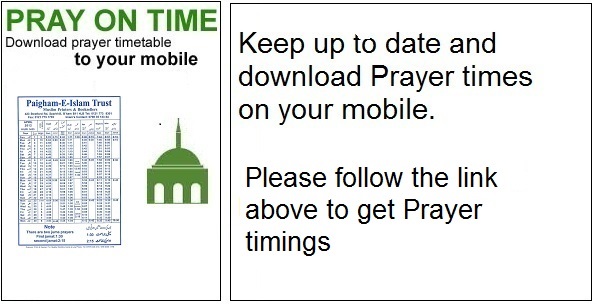 Vault of Fate
Some people wonder what the use may be of making Duas. They say that since everything is preordained and the good and bad written in one's Taqdeer will come to one anyway, why make Dua? But Taqdeer (Qismet/preordainment) should be understood as a vault, a very big safe deposit box. In that vault is one's Paradise and Hell, good and bad. When we make Dua we ask for the good things in the vault to be given to us.

Imaam Ibn al-Qayyim said to invoke Taqdeer to counter Taqdeer. Thus, if you have an accident, ask Allah for recovery from it. Since Allah (subhana wa ta'ala) has kept every good thing stored for us in our safe deposit boxes, He gets angry if we don't ask Him for any of those good things. To not ask Allah (subhana wa ta'ala) for things is to be ungrateful towards Him.

We can understand this from our own experience: Suppose you gather together all the things your children would love to have. Then you ask your children if they would like to receive these wonderful presents you got for them. Some of your children run to you happily saying "Yes, please!" and some of your children keep sitting indifferently, saying, "Well, if you got them for us, you'll give them to us anyway." Which attitude of your children would you be more pleased with?

Ask for the good that Allah (subhana wa ta'ala) has deposited in the vault for you, and ask Him to keep the bad in it away from you.
*Imam Sajjad will be available after 25th Dec to take calls. Please email us*

Got a question or require advice on a matter? Contact Imaam Sajjad. Click here for contact details.